Open Top (OT) CONTAINERS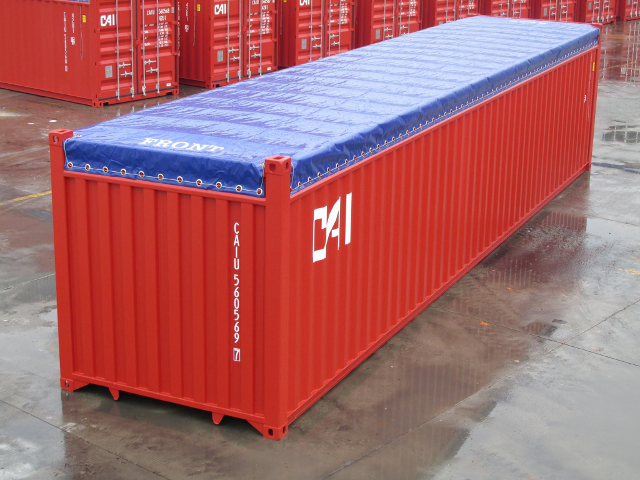 OT (Open Top) containers are used in cases where loading from above with a crane is required, or cargo dimensions in height are higher than standard.
Made from corten steel, containers is predominantly in 20ft or 40ft lengths and can have a hardtop or a soft top.

A soft-top has a tarpaulin roof, which is standard option in the shipping business. It is installed into its place using lashing rings or hefty eyelets. From that point, rooftop bows serve to offer structural support, along with supporting the tarpaulin.
Hardtop containers have hard rooftops made for most of the steel. The rooftop is removable with the help of a crane. Their construction design makes it easier to load and unload freight as the metal pillar over the door can be easily pulled apart.

In table below, you can find full specification dry cargo containers.
Please note: The specifications containers vary depending on their particular manufacturer. Should you have special equipment-related requirements for your shipment, we kindly ask you to contact one of our customer service representatives.
20ft

40ft

Metric

Imperial

Metric

Imperial

Tare Weight
2.300 kg
5.070 lbs
4 300 kg
9.480 lbs
Available Load
28180 kg
62126 lbs
26680 kg
58819 lbs
Maximum Gross Weight
30480 kg
67197 lbs
30480 kg
67196 lbs
Cubic Capacity
32.5 m3
65.9 m3
Internal Length
5.898 m
19.32 ft
12.032 m
39.46 ft
Internal Width
2.352 m
7.70 ft
2.352 m
7.70 ft
Internal Height
2.348 m
7.70 ft
2.348 m
7.70 ft
External Length
6.058 m
19.84 ft
12.192 m
39.99 ft
External Width
2.438 m
7.97 ft
2.438 m
7.97 ft
External Height
2.591 m
8.49 ft
2.591 m
8.49 ft
Door Opening Width
2.340 m
7.67 ft
2.340 m
7.67 ft
Door Opening Height
2.280 m
7.48 ft
2.280 m
7.48 ft
Roof Opening Width
5.41 m
17.74 ft
11.54 m
37.86 ft
Roof Opening Length
2.2 m
7.21 ft
2.23 m
7.31 ft